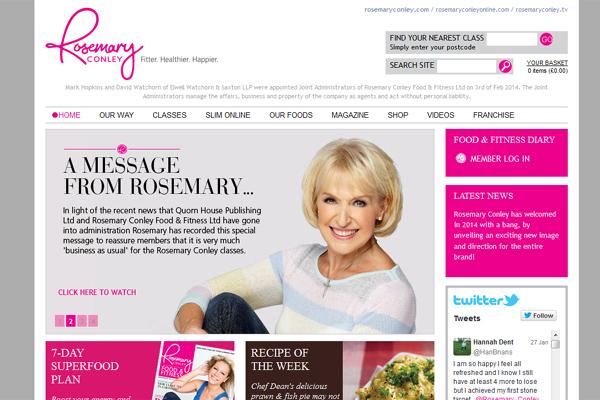 Rosemary Conley
Rosemary Conley
The Rosemary Conley diet and fitness clubs are a great way to help you to lose weight and slim. You can slim by attending classes, by visiting online, by post or through magazines. The key here is fitness, food and feeling good.
The Classes
Incentives offered include half price membership fees for those looking to join such classes. Having launched her own range of food products to assist you in slimming, Rosemary Conley diet and fitness clubs now provide you with everything you may require to help you to lose weight and sustain weight control.
If you subscribe online, you'll receive a fitness magazine delivered directly to your door. If you cannot find the time to attend Rosemary Conley diet and fitness clubs, there are useful alternatives to help you to lose weight now. An interactive online slimming club can be found by visiting www.slimwithrosemary.com. Postal packs offer everything you need to lose weight and get fit.
founded the Rosemary Conley diet and fitness clubs received the top award of Franchisee of the year in 2004. there are many low-fat and low calorie recipes which are extremely tasty and can be viewed online. Online support offers the latest information for diet and fitness. As everyone who wants to lose weight is essentially different and in an individual position, a selection of approaches to slimming means you can decide which method appeals the most to you and best suits your lifestyle.
What Success?
Success stories help to inspire you towards your weight loss targets. The online shop provides you with products such as her latest books, videos and healthy eating cookware. Classes generally last for an hour and a half. Class instructors understand and appreciate your feelings so they are always available to help you to achieve your targets. Encouragement and motivation are the key factors which often produce the best slimming results. Discretion is always assured as well and having been weighed and allocated your calorie allowance by your instructor, you'll receive an informative and motivational talk.
Successful slimmers are presented with awards to promote inspiration amongst members. Exercising to music provides you with a fun way to work out and through enjoying your exercise routine and benefiting from the assistance from your instructor, you can burn fat, tone up and exercise at your own pace to help you to achieve your weight loss targets and maintain your ideal weight for longer. This also means that you can prevent and restrict the development of various illnesses such as heart disease and diabetes.
Our Opinion
Well established National chain of slimming centres. The accompanying website also provides information on slimming techniques, recipes and foods as well as support from other slimmers. Why not check it out and see for yourself whether this could be the route for you?