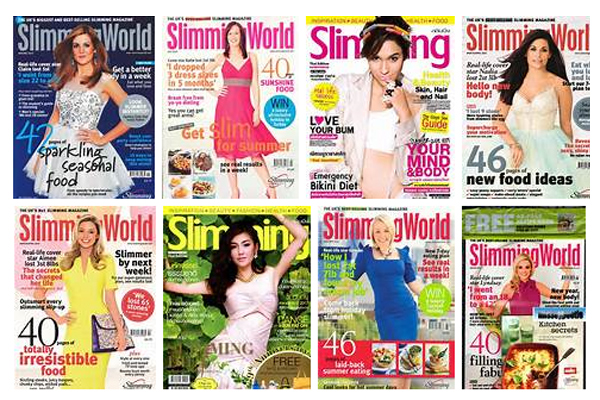 Which Slimming Magazine?
Choose which slimming magazine will give you the best information, impartial advice and sound recipes and tips that may help you lose weight and stay healthy for longer.
Slimming magazine can provide you with tips and recipes to ensure you still eat the foods you love whilst maintaining a healthy and well balanced diet at the same time.

Whatever your position when it comes to dieting, Slimming Magazine is a great way to start changing your lifestyle. With all the major weight loss programmes being advertised within its pages, this publication is ideal for people of all sizes and shapes to help with reducing weight and the risk of developing diseases such as diabetes.

As informative literature goes, Slimming Magazine is a fantastic resource tool for anyone looking for assistance with losing weight and looking and feeling great. Slimming Magazine can offer you simple and effective methods of weight loss and the material you need that includes information and advice to ensure you have the resources you need to get fit, lose weight and stay healthy for longer. this literature caters for the requirements of everyone from the very obese to those just looking to tone up. With challenges and excellent recipe guides as well as tips to help you to lose weight and achieve the results you want, this really is a useful way to embark upon a weight loss programme.

With news and reviews of all the latest diets and everything from clothing ideas that can help you look your best to short term and sustainable weight loss programmes that will ensure you can reduce your weight and prevent the onset of the development of various illnesses such as heart disease, obesity and high blood pressure.

With over 100 pages generally, filled with exciting and innovative ideas for losing weight, you simply have to read through the text and locate the relevant and appropriate information that you feel might help you. You can access excellent medical advice through their pages and experts can answer your questions to give you insight into the methods and best chances of reaching and maintaining your ideal weight. As part of a healthy lifestyle, eating a well balanced diet and combining it with regular physical activity is the way to get the results youre after, quickly, simply and most importantly in a sustainable way.

Our opinion:
---
Packed with helpful advice and tips, this publication we thoroughly recommend for ideas and recipes.

Additional publications :
---
Slimming World

Probably the UK's most advanced weight loss organisation. Each issue focuses on real-life slimming successes, healthy food ideas and menu plans and expert health and fitness advice.

Save up to 19% on usual cover price and get it delivered to your door!



---

Rosemary Conleys diet & fitness

Top selling womens slimming magazine featuring exclusive diets and workouts from Rosemary Conley. Each issue is packed with inspirational slimmer success stories, delicious recipes, expert columnists, fashion and beauty.

Save up to 22% on usual cover price and get it delivered to your door!



---

Slim at home

An exciting new publication that's informative, inspiring and aimed at losing weight through articles, recipes, motivation and psychology.

Save up to 5% on usual cover price and get it delivered to your door!