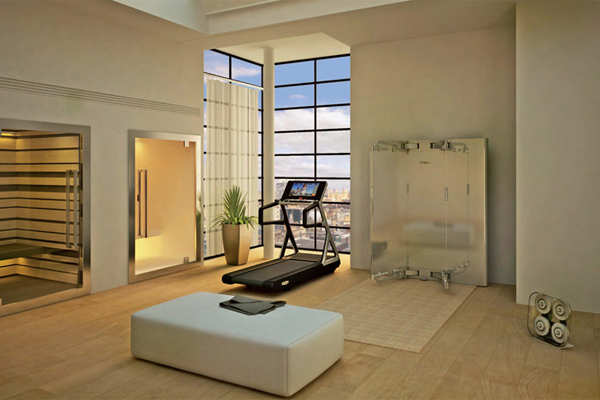 © Technogym
Home Gyms for Exercise
Buying a few weights, a mat and even a piece of fitness equipment gives you your very own home gym! But will it help motivate you to get fit and stay fit. A few hours each week is enough to completely change they way you look and feel about exercise.
If you're busy, then a home gym could be a realistic option to the normal gym run at 6am to beat the crowds. If you have ever wondered why you can't just workout in the privacy and comfort of your own home, then why not take discuss with a gym design company or browse their site to get ideas and see whether it really is for you.
Advantages Of Home Workouts
Using gym equipment in your own front room for example allows you to workout at any time of day or night - basically at your own convenience. It also means you don't need to pack the bag, remember your isotonic/protein drink and a towel before you leave the house.
Whilst you can watch or listen to TV or Netflix at the gym, if you've got a 60" tv or greater at home - then think of the motivation that could provide. Push yourself and strive to gain excellent levels of fitness and improve your health with
Saving money! Whilst you have the outlay in buying the gym equipment, there's no more spending out £20 - £150 per month on a gym membership that often just makes you feel guilty you've not been. A good basic home gym can set you back as little as £250 in reality - especially if you get sound advice.
Type Of Gym Products
What is involved with using home gyms, you might be inclined to ask? Well, there are various products and accessories available to you for your house on the market at the moment. You can buy free weights, rowing machines, treadmills, exercise bikes, elliptical trainers, stair climbers, bench press equipments and a huge range of facilities that will allow you to work all major muscle groups and develop your physique exactly how you want it to be!
Whether you want to enhance your fitness and overall levels of endurance, look and feel much healthier, build muscles, tone up and develop that six pack for a flat, extra hard washboard style stomach or simply start a hobby with your spouse, the opportunities for you nowadays to stay clear of leisure centres, gyms and health clubs have never been more apparent!
Get The Balance Right
With such great ranges of equipment and excellent prices that will have you questioning why you ever spent all that money on gym or health and leisure centre membership fees, isn't it time you went out and bought the health and fitness products that can make all the difference to your physique ad well being? Don't be concerned that you'll run out of space either!
These days, everything is ergonomically designed and that means that space saving designs are very much in the limelight! Sliding under the bed or neatly into cupboards, these days equipment is so convenient, you'll wonder why it has taken you so long to buy such items.