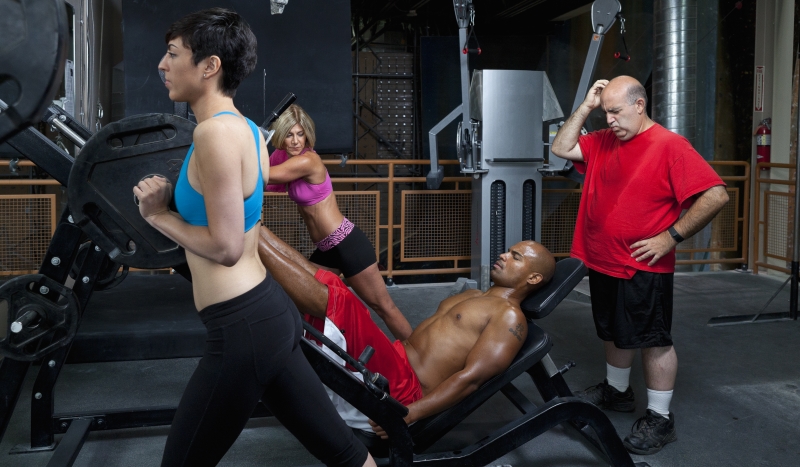 Health Clubs & Gyms
Sounds obvious doesn't it. Sign up with local health clubs or gyms and with a bit of hard work you'll see great results! But do you know what venues you have locally and what they offer? Know what you're looking for?
So Why Choose a Club At All?
Generally, health clubs are excellent places to work out and get fit. It is becoming more and more important these days to maintain good health and fitness levels. There are now health clubs located throughout the UK and selecting the right on has never been so simple! Exercising and eating a balanced diet are essential for sustaining good physical condition as well as well being.
This is particularly prominent nowadays with a significant reduction in physical activity by most people that prefer to drive to destinations as opposed to walking there, for example. Whether you want to tone up, shape up, lose weight or just get out and about and meet new people, a great place to achieve all of these things is at local health clubs!
What Age Is Best?
With a diverse range of excellent facilities and equipment on offer to you, regardless of your age, gender, level of ability or preferences with regards to location, health clubs are now highly affordable and accessible places to work out and get fit. With modern ideas, technologies and options that can help you to improve your physique, skin and especially your outlook on life, these centres are absolutely ideal for providing you with the facilities that cater for every single aspect of care for your body.
Find recreational facilities, tips and advice on losing weight as quickly and easily as is possible nowadays! Discover a world of sporting and leisure based products and equipment as well as courts and pitches that can ensure you have the very finest facilities and amenities to satisfy your requirements and give you access to the exercise options that you may have thought you'd have to travel far and wide or pay extortionate prices for, all located in one fabulous centre!
What Type of Facilities Are There?
Facilities include gyms, swimming pools, exercise studios, steam rooms, saunas, spas, aromatherapy rooms and tanning salons as well as physiotherapy rooms, lounge areas and bars, beauty salons and even crèche!
Locate everything from personal trainers to car parking discount options now and you'll soon be working out in luxurious surroundings that will enhance your exercise regime and ensure you have the motivation you need to improve and maintain good levels of endurance and vigour.
For losing weight, a fitness club offers a great way for you to get fit. Obviously they require a monthly membership and so you need to think about exercising regularly to get real value from a gym.
So Is It Worth It?
Although it's possible to take regular physical activity without a fitness club being on your doorstep, they do provide some motivation. You can exercise almost anywhere and at any time of day or night so it's true that some people prefer to work out in a safe, controlled and supervised environment.
The fitness club has come a long way in just a few years and whether they are private clubs or civic leisure centres, you get a range of options.
From attending multiple classes that range from aerobics to martial arts, such venues are excellent for providing you with the facilities, equipment and instructors that you want to allow you to workout effectively and efficiently. With health and safety issues always a top priority for gyms, you can exercise assured that you are being well catered for.
Where To Find A Gym?
Located right across the UK, you have wide access to a range of products and information as well as the means to workout where and when you want, with most being open very early in the morning and closing late at night.
Attending gyms is ideal for some people who may find it difficult to workout at home or struggle to achieve the results they want and require supervision, inspiration or merely advice and an environment in which health and fitness are high on everyone's list.
With exercise equipment that can cater for all of your needs, such clubs and centres are excellent for providing you with the means to get fit and say healthy for longer. From free weights for toning and muscle building, treadmills and rowing machines with features and programmes that will keep you interested and motivated throughout your workout to classes including martial arts, mind and body, Pilates and aerobics where instructors will advise and support you whilst helping you to maintain your motivational levels and improve your fitness, the possibilities are vast.
Finding The Best One For You
It can be expensive to join some of these places so it's a good idea to look around first. Get to know what your aims are regarding fitness levels and a healthier lifestyle and set realistic targets that you can strive to meet in order to improve your health and fitness over the course of a few weeks and months.
By taking regular activity and eating healthily, you can get fit, look and feel great and stay healthy for longer. You can also reduce your risk of developing heart disease, some cancers and diabetes.