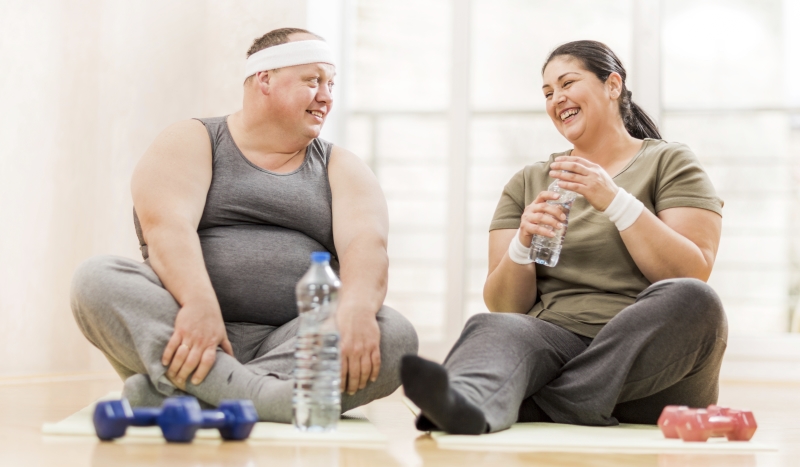 Lack of Exercise & Obesity Levels
Over a short period of time, it has become very apparent that a decrease in the amount of exercise by the general population has corresponded with an increase in levels of obesity amongst not only adults, but children too.
Which Is Worse? Being Obese Or Doing No Exercise?
Surprisingly, lack of exercise may have more of a negative impact on your health than simply being overweight. This is because a complete lack of any exercise can contribute to a higher risk of various illnesses including heart disease, Type 2 diabetes, mental health problems and high blood pressure.
As well as this article, you can also read our One Hour of Exercise article which shows easy it can be to tackle the ever growing problem of your waistline!
No Exercise = More Likelihood of Illness
Of course, lack of exercise and obesity are both risk factors for good health, but when researchers separated out the two, they found that fit but fat people are actually at less risk of many chronic illnesses than skinny people who never exercise.
Dr Weiler, from Imperial College Healthcare Trust, in London, recently suggested that spending large amounts of public money on treating obesity was the wrong way forward in a report in the prestigious British Medical Journal, he called for public health policies to change focus, with more emphasis on increasing physical activity.
According to Dr Weiler, both weight loss drugs and surgery carry risks, and have limited long-term benefits. Instead we should look to improving cardiovascular fitness, which is in fact a better predictor of mortality than obesity.
What is the Scale of the Obesity Problem?
In a nutshell, it's huge. In the UK, 90 percent of adults do not even manage the recommended minimum of thirty minutes of moderate exercise five days a week. And worryingly for the future, with the squeeze on schools to follow national curriculum guidelines, most children only do PE at school twice a week. Thus the problem is only likely to increase.
At the same time it would be foolish to ignore the obesity epidemic that is sweeping both Britain and the world. Obesity and lack of exercise typically go hand in hand, providing a double whammy that dramatically reduces the life expectancy of many people, while increasing their chances of ill health.
The bottom line is that if you want to lead a long, healthy life, you must exercise regularly and keep your weight under control. Current recommendations are that adults and children should both be aiming for up to an hour of moderate exercise per day however, you can considerably reduce the time needed and increase the benefits if you opt for more intense exercise.
A Very Effective Exercise Option
High Intensity Exercise (HIT) such as interval training or intense weight training can provide the same benefits as an hour of moderate exercise in as little as twenty minutes a day. The fat burning effects are immense, making this the most effective way to lose weight and get it shape.
This is a route that cannot be taken lightly, as you need to be sure your heart and lungs can take the strain. But once you've seen your doctor and they've given you the ok, this could be a great way to optimise your time, whilst getting back on the road to fitness.