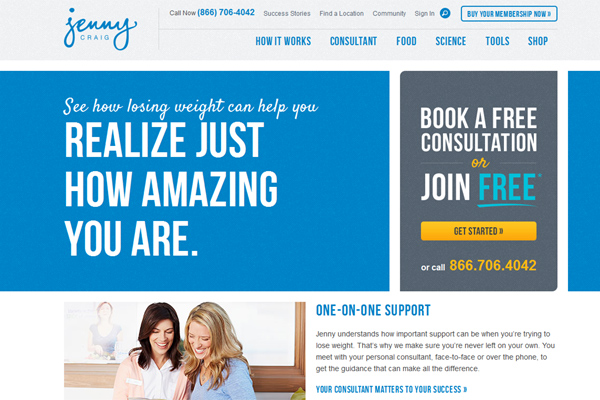 JennyCraig.com
Jenny Craig
Founded in Melbourne in 1983, Jenny Craig diets and weight loss programs have grown rapidly to become a world wide brand renowned for successfully helping thousands of people lose weight.
Jenny Craig runs more than 550 weight loss centers in the United States, Canada, Australia, and New Zealand. The program combines individual weight management counseling with a variety of foods - these are either sold through its weight loss centers or shipped directly to clients.

The Jenny Craig approach to weight is successful because it addresses three areas that are critical to effective weight loss: Food, Body and Mind.
FOOD:

This addresses your relationship with food, seeking to establish a healthy relationship with food. You'll learn about portion control and healthy eating habits, while enjoying a variety of nutritious foods from the program's menu.

BODY:

An active lifestyle not only promotes weight loss, but is essential for maintaining a healthy weight. You will be assisted in gradually increasing your physical activity, and work within a program that is designed to fit into your lifestyle and preferred activity level.

MIND:

Food must be part of an overall balanced approach to living. You will discover how to stay motivated, and how to create a balanced lifestyle, whatever your schedule.

Jenny Craig offers these programs through either a personal consultation in your home, or through the online Jenny Direct program. All programs are designed to offer a personal approach to weight loss that fits your lifestyle.

The program thus begins with a review of your current personal eating style, activity level, and weight loss mindset, and an initial weigh-in and measurement. This gives the consultant a baseline from which to work in designing your program.

Foods are provided as part of the program, and include entrees and snacks - you'll eat three Jenny's Cuisine meals and one snack every day, with lots of fresh fruit and vegetables added in to help promote good health and smart food choices.

You will also be taught how to eat from a balanced menu of fruit, vegetables, low fat dairy, whole grains and heart-healthy fats.

Physical activity is also a big part of a healthy lifestyle, and key for weight management, so your consultant will work with you to develop an active lifestyle.

Finally, your consultant will work with your through regular weekly meeting to help motivate you, offer you advice to overcome any challenges you may encounter, and offer you the skills, strategies and information you need to achieve and maintain your weight loss goals.